Here at Emerson Wild our roots run deep when it comes to container gardening. We've always been drawn to the idea that a container garden, presents even those with the smallest spaces, an opportunity to garden. Furthermore, they allow you to grow a visual story that is bursting with life, colours and precious blooms. With our expertise in this area of the garden, we present a mini series on aspects of container gardening starting off with thrillers.
The verbiage in container gardening is just as fun as putting one together yourself.  Just as the name implies, thrillers are meant to thrill. They are the main event of your container garden, a focal point that draws you in to further inspect the remaining features of the container. Thrillers command your attention with either their height, their gushing blooms or interesting structure. They bring the best kind of drama and we often say that when you start with your thriller, everything else follows suit.
We've curated a list of some of our favourite thrillers that make for an impact in any container garden.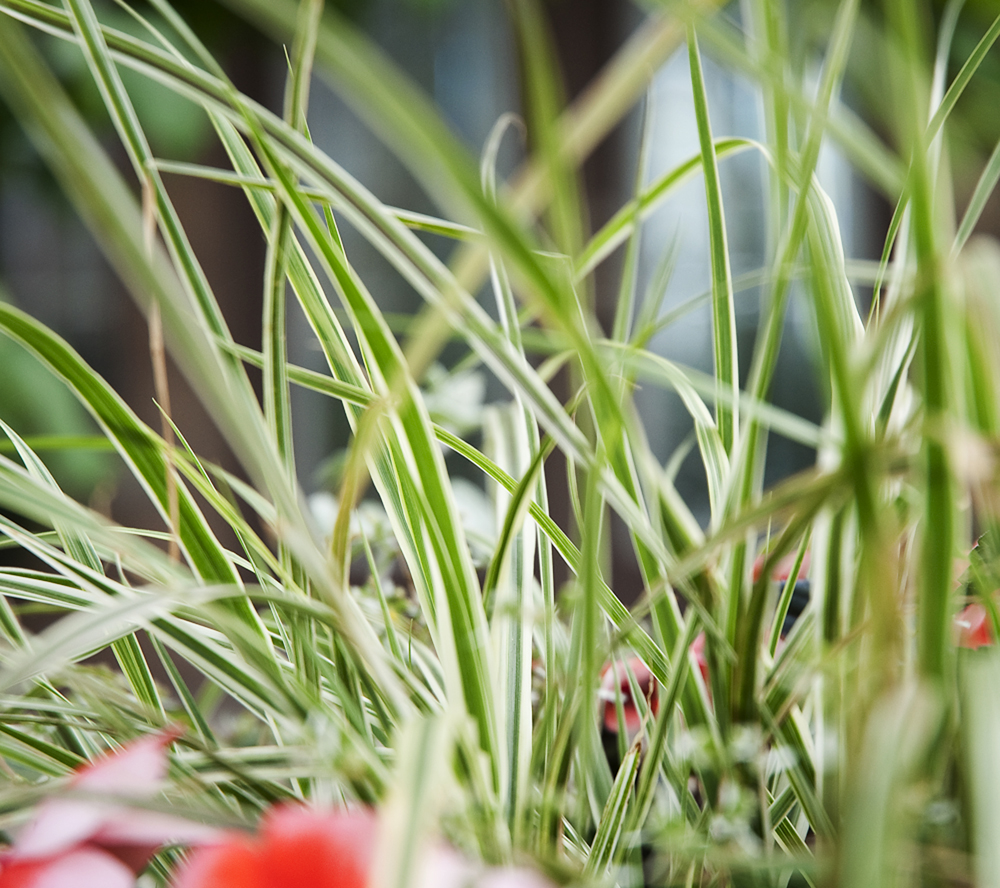 Ornamental Grasses
If you're unfamiliar with the term, ornamental grasses are grown for decorative purposes, and don't have to be maintained like turf grass. Instead the larger they grow, the better. They are ideal as thrillers providing showy plumes and lush foliage that brings both height and width to the table.
Purple Fountain Grass (Pennisetum setaceum 'rubrum')
Showcasing lush bronze to purple hues, the stunning foliage is topped with dainty seed heads (basically an inflorescence that contains developing seeds). The weight of the seed heads results in a delicate arching of the foliage that is sure to please.
'Sky Rocket' Fountain Grass (Pennisetum setaceum 'rubrum')
Featuring variegated soft leaf blades of green and cream (in other words, thin strips of each color). This thriller has long lasting white blooms that arch ever so gently for a stunning look.
'Fireworks' Variegated Red Fountain Grass (Pennisetum setaceum 'rubrum')
As the cultivar name implies, this grass is bursting with eye-pleasing hues. With shades of deep reds and pinks, bring some color to your container garden with this thriller.
New Zealand Cabbage Palm (Cordyline australis 'Red Star')
Believe it or not this plant is part of the asparagus family, multi-branched and almost and resembling palm fronds, it is breathtaking.  Richly coloured, the cabbage palm adds drama and height with their outwards arching foliage.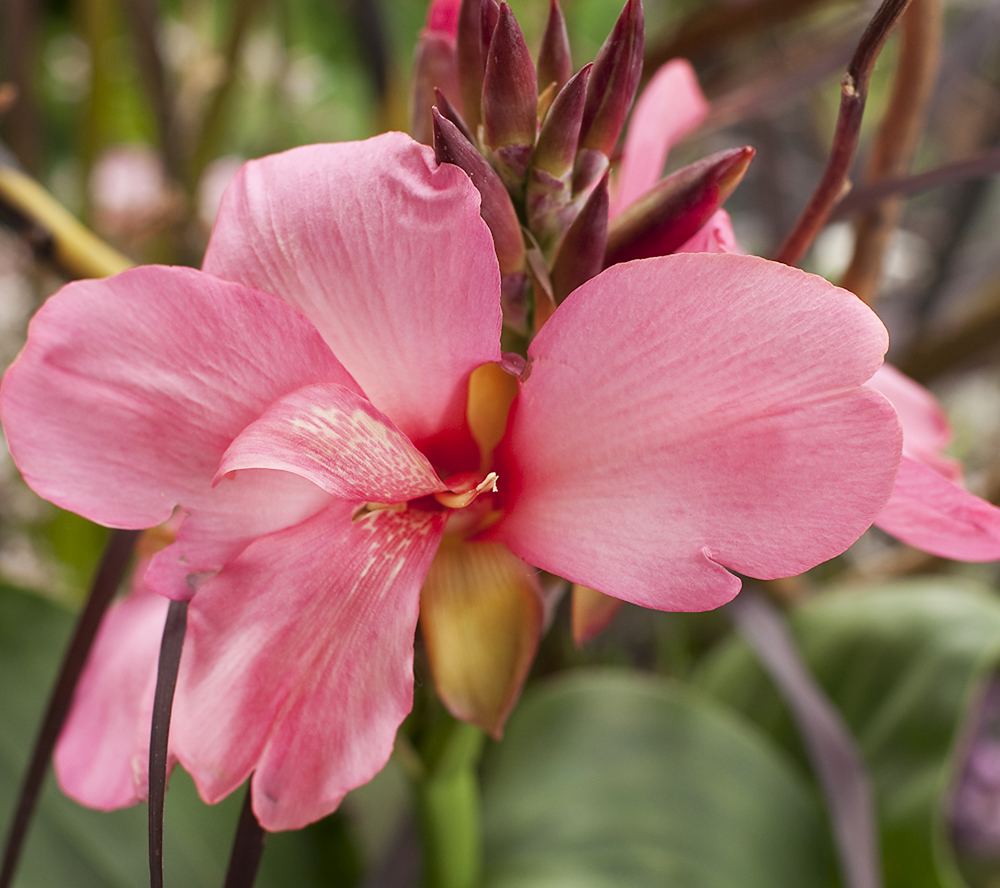 Tropical Thrillers
Did you know that container gardening started with tropical plants? Exotic plants were brought to various countries and grown in containers within greenhouses! Although here in Canada we have a relatively shorter growing season, tropical delights make for wonderful thrillers during the summers.
Canna Lily (Canna generalis)
With striking florals and foliage, bring a burst of color and drama to your container. Lovers of both heat and humidity, these gorgeous blooms often attract hummingbirds, and who doesn't love those beautiful birds! Opt for a dwarf variety like the Toucan 'Dark Orange' for a stunning display.
Dwarf Banana (Musa Acuminata)
Yes, you read that right! A banana tree. Perfect for large containers, even dwarf banana trees showcase dazzling foliage that is hard to miss.  They are big fans of both the heat and sun. Plus, it doesn't take long for these plants to fill out and look beautiful.
Rocktrumpet (Mandevilla hybrids)
With so many cultivars and hybrids to choose from, you can't go wrong with these prolific vines. Twisting around their own base, they are happy to grow vertically on sturdy structures like trellises or obelisks. We absolutely adore their amazing flowers, teeming with bold and bright colors.
Containers with 'Standards'
When we refer to standards, we don't mean a level of quality. Instead, standards in container gardening are plants that are trained to grow on a single stem. This makes them ideal for not only making a statement but for providing extra height.
Morelle False Jasmine (Solanum jasminoides)
Sometimes referred to as the 'Star of Bethlehem' or the 'White Potato Vine', this plant hails from the Nightshade family (Solanaceae) and features graceful clusters of white flowers.
We hope some of our favourite thrillers have inspired you to start planning your container garden! Stay tuned for the continuation of our mini series on thrillers, fillers and spillers!. Happy gardening from all of us here at Emerson Wild. While you patiently wait to start creating your container garden, sign up for our email list to receive the 2022 Spring/Summer Trend Report. Be sure to connect with us on Instagram and follow us on Pinterest. We are always pinning the latest trends on all things garden.