"My garden is my most beautiful masterpiece"- Claude Monet
Claude Monet definitely had the right idea! The famous French impressionist painter, was just as dedicated to creating masterpieces in his gardens as he was to his paintings. He achieved his botanical masterpieces by focusing on colours. And as a painter who never used black, he would often working with hues of purple instead. So, we're almost certain that he would have adored Pantone's 2022 Color of the Year: Very Peri. If you're unfamiliar with Pantone, it is simply the universal language of color, specifically in the digital world. But color extends past the digital world, this year's color of the year presents itself in the natural world and can find its way into your garden.
PANTONE 17-3938 Very Peri
Let's talk first about this stunning color, hailing from the blue color family. It encompasses much of the blues but at the same time possesses a violet-red undertone. Pantone describes it as a color of joy, it holds a dynamic presence that is meant to encourage creativity and inventiveness. Created specifically for the the Color of the Year, it speaks to us of serenity and invokes feelings of comfort. After the turbulent last few years, it places the future in a new soft light, one that has excited for things to come.
The Color of the Year and Your Garden
While true blue is very rare in nature, arguably non-existent, Very Peri in its vibrant periwinkle-lilac purple is abundant. From annuals to perennials, wild flowers to shrubs, we can find it almost everywhere. How you choose to incorporate it into your gardens is entirely up to you. You can use this shade to compliment other bright colours. Or try something new, like a monochromatic theme. Undoubtedly, Very Peri will breathe new life into your color-scapes, regardless of how you utilize it. We've curated our collections with something for everyone. Whether you're working with a few small containers or a large garden, we know there are a few plants here for everyone. Here you'll find a list of annuals perfect for container gardening, perennials and our favourite combinations.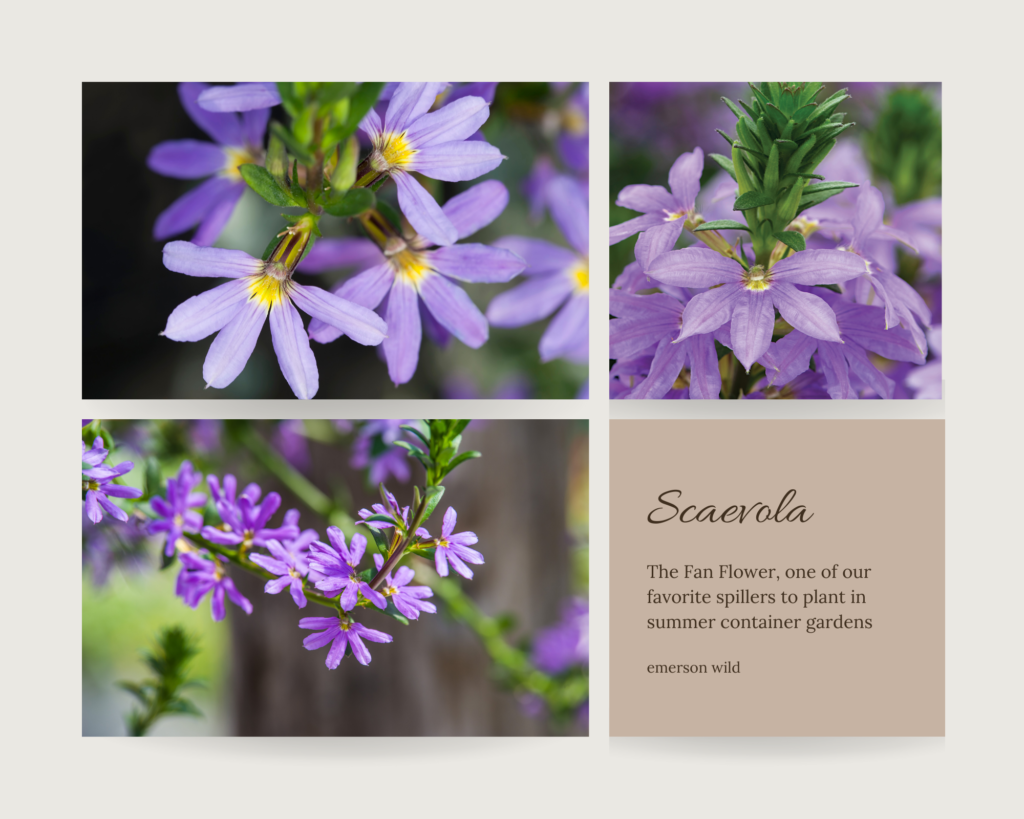 Color of the Year Annuals for Container Gardening
Salvia
With over 1000 plants in this genus, you may be overwhelmed by what species to choose. Belonging to the mint family, Salvia smells delightful. We would go with the Mealycup Sage (Salvia farinacea), specifically the 'Unplugged, So Blue' cultivar and the hybrid Salvia longispicata x farinacea 'Rockin' Playing the Blues' to highlight those very peri hues.
Wishbone flower
We love the dainty flowers that Torenia species bring to any container. The 'Summer Wave Large Blue' is a particular favourite, flourishing two tones of purple all in one flower.
Petunias
Look to the 'Misty Lilac Wave' or 'Merlin Blue Morn' varieties for the gentle and soft lilac/periwinkle color. Depending on other members of your container garden, petunias offer a wide range of purples to choose from.
Fan flower
The delicate floral architecture is a treat for the eyes, and for a beautiful Very Peri shade, go with the 'Whirlwind Blue' variety of the Scaevola hybrid.
Verbena
Blooming from May to frost, Verbena is often referred to as a "spiller". Many of the trailing varieties gently cascade over containers and windowsill boxes. Our top choice definitely has to be 'Superbena Large Lilac Blue' Verbena. Did you know that even though Verbena is not a native plant, it is a wonderful pollinator? Your container will be buzzing this summer. Looking for native pollinators for your garden? Be sure to read our post on 7 Plants for a Pollinator-Garden, coming out on April 18th, 2022!
Asters
So many asters so little time. Save yourself the research by opting for the classic European Michaelmas-daisy (Aster amellus). Alternatively, use the Aromatic Aster (Symphyotrichum oblongifolium).
Calibrachoa
Similar to petunias, but hailing from the nightshade family (hello tomatoes), they bring slightly different shades and hues to the container. Plus, they bring a sweet-smelling scent that we love. Use a variety like "Miss Lilac", without a doubt you'll be happy to include them.
Edging Lobelia
Lobelia erinus is a low maintenance favourite that is perfect to use as a filler. We love the 'Laguna Compact Blue With Eye' for it's periwinkle shades featuring a pop of white in the center of the flower head.
Summer Snapdragons
This annual (Angelonia sp.) does extremely well in containers, providing vertical height next to thrillers (the bold focal points of your container). Choose the 'Angelface blue' culitiver or the 'Angelface Super blue' summer snapdragon to provide more architecture in your container.
PRO TIP: Compliment the purples with white annuals and silver foliage such as Dusty Miller and a darker foliage shade spiller- Ipomoea (sweet potato vine) in deep purple or deep purple-black.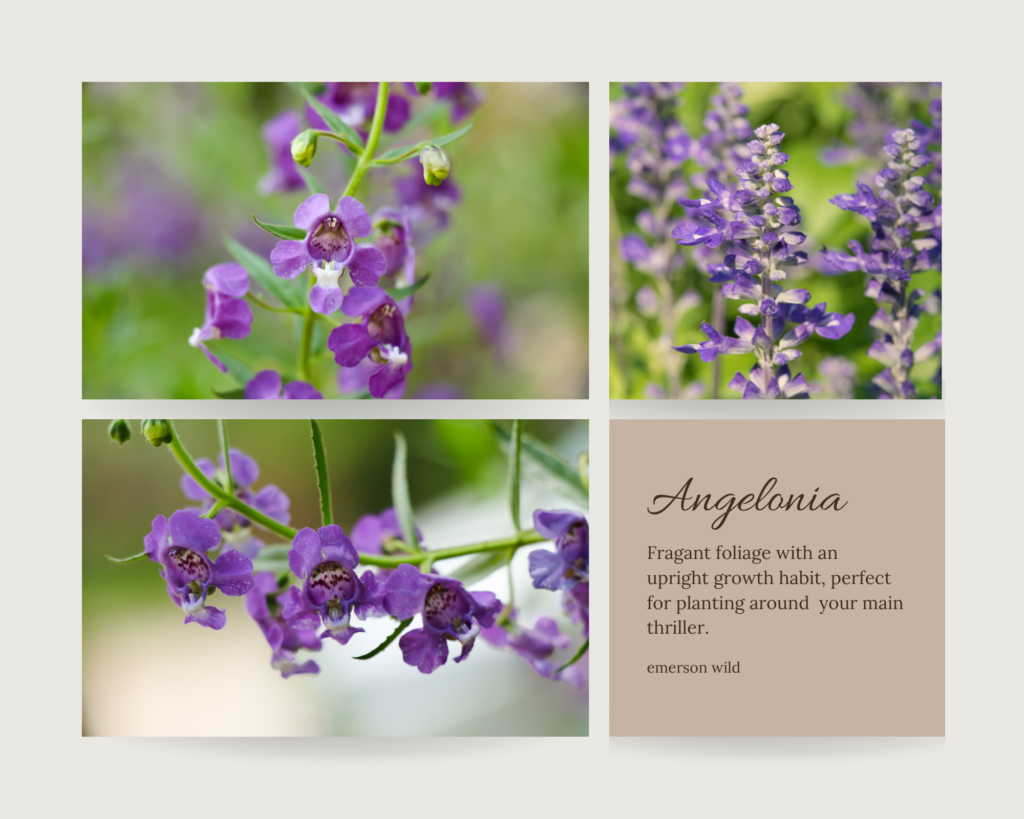 Perennials
Lilacs
Lilacs are like an epic love story, blooming for only a short period of time, but captivating the heart nonetheless. Opt for the Common purple (Syringa vulgaris) or Scentara Double Blue ('S. x hyacinthiflora').
Bellflowers
Peach leaved bellflowers (Campanula persicifolia) are our top choice, thriving here in Canada and requiring little maintenance. Plus, the color is oh so 'Very Peri'.
Blueberries
Both highbush and lowbush blueberries will provide edible and delicious fruits in the 2022 color of the year. But we have our sights set on the BerryBux variety, a boxwood-like foliage that is excellent for hedging.
Allium
Cherished for their large roughly spherical flower heads. Many are available in various purple/blue hues, but we love the Giant Allium (Allium giganteum) and the 'Gladiator' variety.
Lavender
Nothing soothes the soul quite like lavender. Select the broadleaf lavender (Lavandula latifolia) for a strong fragrance and beautiful very peri hues. Did you know, this species is often selected for the finest essential oils?
Combinations We are Loving
Complimentary Colors
When it comes to the color wheel, opposite of purple you'll find yellow. Which means that the two colors make for a eye-pleasing combination. Pair Oriental Lilies in yellow with Clematis or Grape Hyacinths and Buttercup Anemones. Opt for deeper tones to keep things moody or lighter ones to keep it fun.
Hues of Purples
If you're aiming for various hues, pair delphiniums with foxgloves or purple poppies (yes they exist!) and petunias for a masterpiece in your garden.
We hope that you get to enjoy the 2022 Color of the Year in your gardens this year! As you begin to plan your garden, and have to patiently wait for the planting season sign up for our email list to receive Emerson Wild's 2022 Spring/Summer Trend Report. Be sure to connect with us on Instagram and follow us on Pinterest. We are always pinning the latest trends on all things garden.