With the holiday season fast approaching, you may be dreaming of fresh garlands and the incredible scents of evergreens. But, with the holiday season the New Year quickly follows. As we begin to think about 2023, we have houseplants on our minds. The National Garden Bureau has declared 2023 as the Year of the Orchid. And we couldn't be more pleased. From gorgeous architecture to striking blooms to easy maintenance, it's a fan favourite for a reason. The orchid joins 4 other houseplants, on our must-haves for 2023. The start of a year is a perfect time for growth, change and a fresh start, and what better symbolizes that than a houseplant?
Plus, if you haven't considered gifting a friend or a loved one with a new plant, this is the year to do it! It will be the gift that keeps on giving.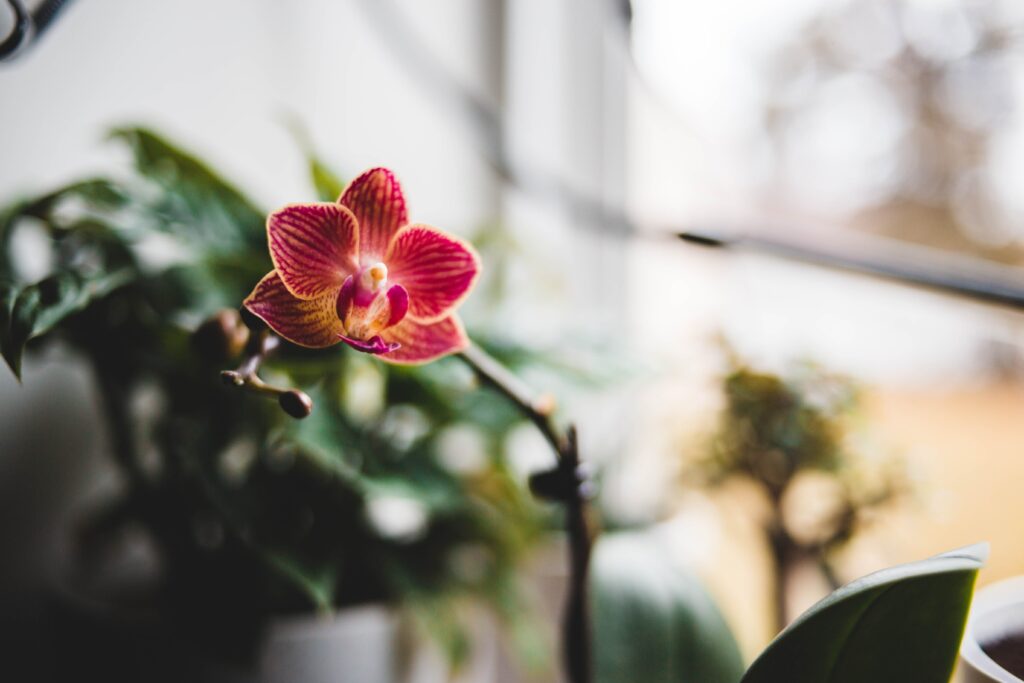 The Orchid (Phalaenopsis)
First and foremost, the lovely orchid. In the last quarter century they've bloomed into popularity. Orchids are now one of the most widely grown houseplants. As we've mentioned it's because they have few downfalls. Acting as natural purifiers one of our favourite things about these houseplants is the fact that they can improve your sleep quality. They release oxygen in the evenings and throughout the night, aiding in a peaceful and restful sleep.
Maintenance: Easy, beginner
Light: Indirect bright light
Water: Weekly in the summer, bi-weekly in the winter – The best way to water your orchid is let the plastic pot soak in water. After about 10 minutes you'll see the aerial roots turn a rich green. Soak for about 15-20 minutes. This is the ideal method for orchid watering as it allows the plant to take as much water as needed.
Temperature: 20-30˚C, if your bathroom has sufficient light, the orchid will love the extra humidity!
Notes: Usually you'll purchase an orchid in full bloom. Once the flowers have wilted, with a clean knife/scissors, trim the stem close to the base. Orchids can bloom more than once a year if you keep them happy. And believe us there's no greater sense of joy/accomplishment than seeing your orchid bloom again
Chinese Money Plant (Pilea Peperomioides)
Sometimes referred to as the 'Friendship Plant' or the 'Pass it along plant' this cheery little plant will be a hit with all your friends. It gets these fun names because it grows quickly and easily and will shoot up "Pups" that can be repotted and passed on to others. If the gorgeous green and beautiful leaves don't already have you swooning, it's good to know that this plant is said to symbolize luck when it comes to money. And who doesn't appreciate a little extra luck in that department?
Maintenance: Easy to Medium
Light: Indirect, bright light
Water: About 2-3 times a month, pileas don't like wet feet, so ensure you have good drainage
Temperature: 15-30˚C plus they enjoy a good amount of humidity, so another good contender for the bathroom or kitchen
Notes: Non-toxic to both people and pets!

String of Turtles (Peperomia prostrata)
Strings of succulents are extremely eye-catching. Either complete succulents or semi-succulents, they're generally small trailing plants with leaves that resemble one thing or another (dolphins, pearls etc.). The Turtle's string as it's lovingly called features variegated leaves that resemble a turtle's shell. Sprucing up a side table, or tucked away on a shelf, it's the trailing plant you need in your life.
Maintenance: Easy to Medium
Light: Indirect bright light
Water: Moist but never wet, ideally where humidity is higher in your home like your kitchen or bathroom
Temperature: 18-29˚C – these plants hail from Brazil so they like it warm!
Notes: You can propagate these trailing plants by cutting a stem with 3-5 leaves and letting them root in water
Philodendron Imperial Red (Philodendron erubescens var. 'Imperial Red')

Ralph Waldo Emerson once said, "Nature always wears the colour of the spirit". To elevate your mood and brighten your spirits in the cold winter months, we present the Philodendron Imperial Red. With glossy large red and green leaves, this plant is a showstopper. The bright red of the leaves will leave you energized while the green brings on a sense of refreshment and security. The perfect combination for fighting the winter blues.
Maintenance: Easy, beginner
Light: Medium to low light (just keep in mind lower light means slower growth)
Water: Water only when the top few inches are dry, in the winter you can water about 1-2 a month
Temperature: 21-28˚C, take care not to let this plant get too cold and don't place them near windows that can get drafty
Notes: While beautiful, this plant is toxic to people and animals, so be sure it's out of reach of both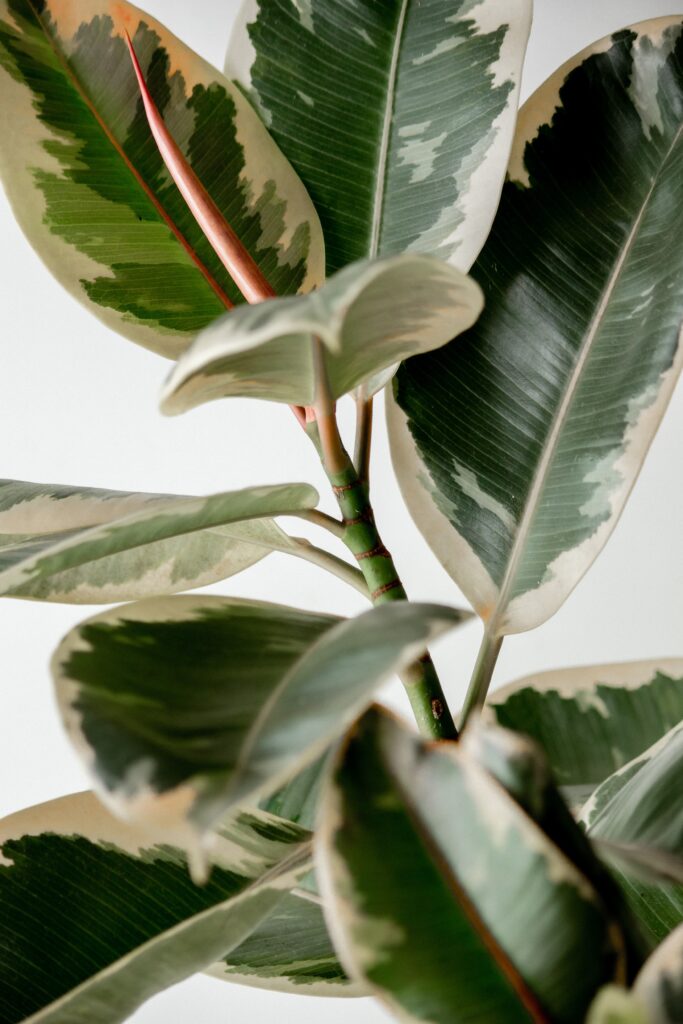 Variegated Rubber Tree (Ficus Elastica var. 'Tineke')
If you haven't fallen in love with variegated houseplants, you soon will. And we nominate the variegated rubber tree as your first muse. An ornamental tree that grows around 2-10ft, it's thick and thick waxy leaves eventually produce a latex that is used in rubber manufacturing (hence the name). Normally, Ficus elastica has deep green leaves, but this variegated variety introduces soft yellows and greens in delicate patterns that almost make the leaves look like a watercolour painting.

Maintenance: Easy, beginner
Light: Indirect bright light, but can tolerate lower light settings
Water: Water weekly in the summer, and 1-2 times a month in the winter months
Temperature: 16-26˚C, generally warmer in the day and cooler in the evenings, taking care not to let the plant get too hot
Notes: These are long lasting plants, with the proper care, they can bring you joy for 15+ years
From our team here at Emerson Wild we hope you can welcome and gift beautiful house plants in the upcoming holiday season. If haven't yet subscribed, sign up for our email list to receive exciting new updates from us. And, be sure to follow with us on Instagram and on Pinterest where we are always pinning the latest trends on all things garden and home.