Of our four seasons here in Canada, many begin with a bang. An obvious declaration of a seasons' commencement. In the winter, many of us recognize that first heavy snowfall; or in the Spring those first signs of life pushing through the cold ground, as the unofficial starts of the seasons. But, Autumn begins slowly and surely. In late August and early September cooler temperatures gently make their appearance, the air begins to change ever so slightly and the evenings seem to come quicker and quicker. There is however, one thing that signals the start of this season very obviously: the arrival of chrysanthemums, commonly called 'mums'.
Like an explosion, the bursting colourful blooms can be found just about everywhere. But our relationship with chrysanthemums has varied over the last decade. Long have they been associated with the bounty and fullness of the Fall harvest. Nonetheless, over the last few years, we saw a decrease in their popularity, as new trends came to the forefront to take center stage.
But a few years without chrysanthemums has proved that we are nostalgic for these blooms, and Queen of Fall flowers returns to her full glory as one of this season's top garden trends. It's no secret as to why. Not only are these blooms beautiful, but they are prized for their ease of cultivation, their sturdiness and the incredibly wide range of colours. And of course, the fact that they are the perfect addition to your Fall container garden.
If you're planning to dazzle with a fall container garden here's the Emerson Wild Checklist on purchasing, planting and enjoying these regal florals.

Purchasing Mums
Look for blooms that are just beginning to open up. Not a fully closed bud, but you want to see the first inklings of colour peaking through. Check the foliage isn't yellowing or wilting and that it's a bright deep green. Drooping is an indication of underwatering, and even though a good soaking will help remedy the issue, the flowers won't last as long if underwatered consistently.
Part of the beauty of the chrysanthemum is the wide range of colours and varieties, but all the choices can definitely be overwhelming. So we've selected our favourites for planting in your Fall container garden, depending on what colour scheme you are aiming for.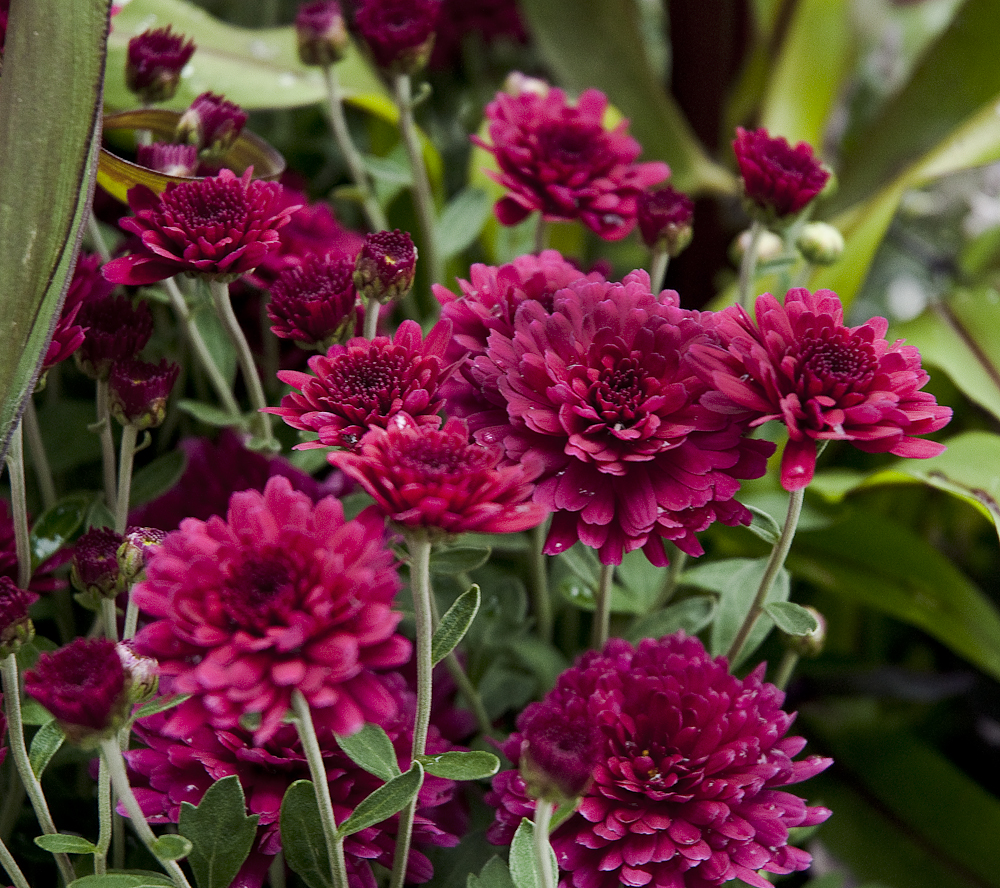 Deep Rich Shades
Wanda Purple or Wanda Red
Mid season blooms with an above average flower size. We recommend pairing with a curly leaf ornamental kale such as Chidori in purple or deep magenta or a cabbage in the Pigeon series in red.
Bright and Bold Shades
GiGi Orange with GiGi Golden.
Perfect for small to medium sized containers or window boxes, this early-mid fall variety sports buds that are smaller but just as sweet.
Cheryl Spicy Orange with Cheryl Golden.
Pair with the stunning Osaka ornamental cabbage in white or Chidori ornamental kale in white, to have these mid-late fall blooms transform your container garden with their bold colours.

Planting Mums
Light: 6+ hours of sun per day
Water: Frequent watering, due to their shallow root systems they need consistent and good waterings
Soil: Rich, well-drained soil, if temperatures remain higher into the early fall, a light mulch layer is recommended to help retain water
For the most part, if they're receiving enough water and sunlight, mums are easy. They bring joy and colour to any home that they adorn. We here at Emerson Wild are looking forward to working on our Fall container gardens with chrysanthemums! If haven't yet subscribed, sign up for our email list to receive exciting new updates from us. And, be sure to follow with us on Instagram and on Pinterest where we are always pinning the latest trends on all things garden and home.