January is one of the coldest months of the year here in Canada. While we keep warm and cozy indoors, we often find our minds drifting away to what our gardens will look like in the coming Spring. The sun will be shining, our landscapes transformed. It's the kind of day dreaming that will fill you with joy and an eagerness for the winter months to pass. Our musings have already begun and at the forefront we have the 2023 Pantone Colour of the Year and how it will breathe new life (and colour) into our gardens.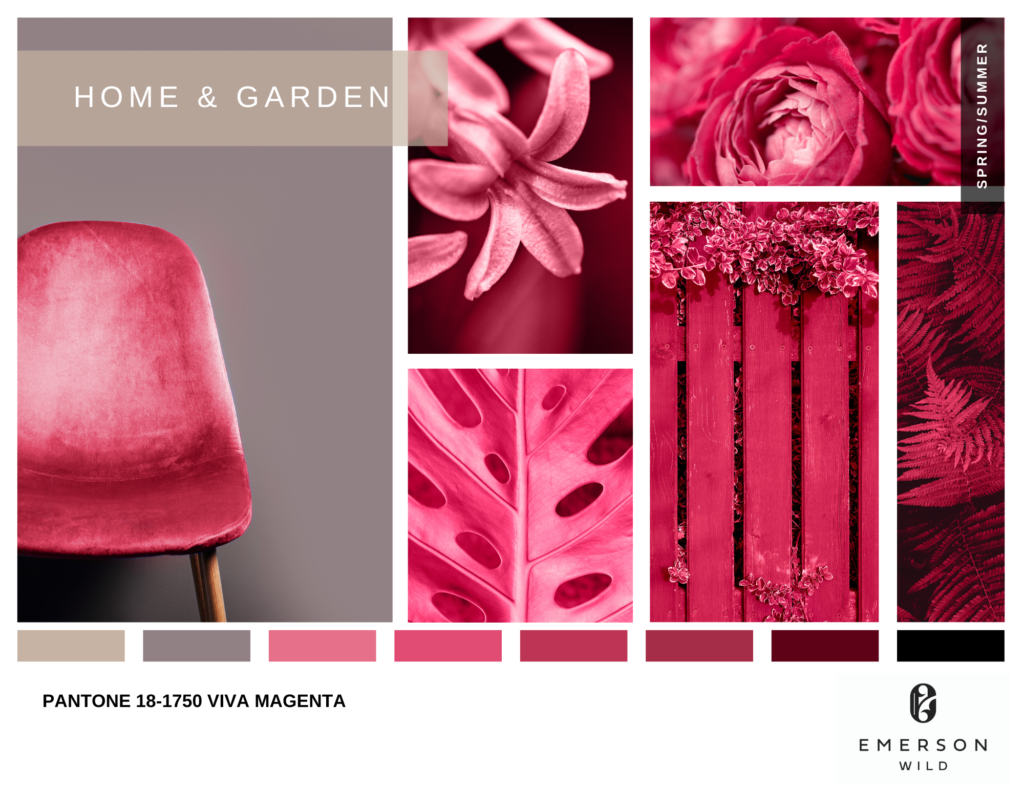 PANTONE 18-1750 Viva Magenta
Descending from the red family this colour splashes on the scene with joy, optimism and what feels like a new-found strength. It empowers, and promotes an inclusivity of feeling. You can't help but to feel like one of nature's treasures is lifting your mood and spirit when you first lay your eyes on this magenta. Its origins are organic, deeply rooted within nature and reminiscent of connection. Pantone comments that it balances boldness and fun, confidence and humanity; and we couldn't agree more.
The Colour of the Year In Your Garden (& Home)
Have you ever wondered why there is such a range of colours in foliage and flowers? While horticultural efforts can be outstanding, nature time and time again proves to be the most impressive engineer. The reason? Survival. Colours have evolved over thousands of years, with one of the main reasons being to attract pollinators. In a plants' life cycle, each flower that is pollinated grows into a fruit (containing seeds), thus allowing the next generation to begin. And the show stopping nature of Viva Magenta, with its mixtures of red and purple aims to attract: butterflies, moths and bees (and even hummingbirds if the floral shape is to their liking)! If you want to learn more about pollinator gardens, read our guide here.
To say that we are excited to begin incorporating 2023's Colour of the Year is an understatement. Did you know that green and magenta are complimentary? If you're unfamiliar with colour theory, it simply means that when placed side by side they provide a stunning contrast elevating both colours to a new-found beauty. Which is great news for gardens. To get you excited (and planning ahead), we've curated our collections, with something for everyone: our container gardeners, house plant lovers and overall garden enthusiasts.
Annuals, Perennials In the Colour of the Year
Petunia – SureShot™ Magenta Petunia – Annual
Perfect for: Container Gardens, hanging baskets
Who doesn't love petunias? Especially when they dawn the Viva Magenta colour? We definitely do. Be sure to place them in a bright and sunny location, and to water them regularly. To keep them full and blooming, deadhead (remove wilting flowers)throughout the season to encourage continual growth.
Coleus – TrailBlazer™ Road Trip – Annual
Perfect for: Container Gardens, landscaping
Without a doubt, coleus can be considered a low-maintenance, high-impact plant. This particular variety additionally includes a green bordering around the leaf, to produce that extra pop we're after. Great for sun and shade alike; keep in mind you want to avoid overly damp soils for the best results.
Verbena – Firehouse™ Burgundy – Perennial
Perfect for: Container Gardens, hanging baskets
Look to this Verbena for a punch of colour, dainty flowers combined together in full luscious heads. Compatible with various soil types, you just have to ensure you have good drainage for optimal results.
Clematis – "Viva Polonia" – Perennial 
Perfect for: Climbing, Container Gardens
If you opt to showcase your clematis in a container garden, add a small trellis to help support their climbing habit. This particular variety generates large, soft magenta blooms, with a white star coming out of the center. The general rule to remember with clematis is, "feet in the shade, head in the sun" to keep them happy and healthy all season long.
Sun or Shade Caladium – Heart to Heart® 'Hot Flash' – Annual
Perfect for: Container Gardens, Borders, Mass Planting
Bright and showy foliage with a dark green edging on the leaves to again let that magenta shine. Caladium is able to thrive in both sun and shade conditions, and can additionally be brought indoors for the winter.
Cordyline Red Sister – House Plant
Perfect for: Areas of the home with bright indirect light
Believe it or not this is actually an evergreen! Even though not much green can be found on these plants, rather a stunning homage to Viva Magenta. Endemic to Southeast Asia, Australia and Oceania, here in North America it makes an excellent houseplant. Opt for well draining soil, a bright and sunny location with indirect light and keep the soil moist (but not damp).
We hope we've been able to provide you with inspiration and fill you with excitement about the 2023 Pantone Colour of the Year, Viva Magenta and your garden. And if you're curious about what other trends will be flourishing, sign up to receive our 2023 Trend Report. Furthermore, we'd love to connect,  be sure to follow us on Instagram and Pinterest!